PRESS RELEASE:
Number forty-seven said to number three:
Youre the cutest jailbird I ever did see.
I sure would be delighted with your company,
Come on and do the jailhouse rock with me.
The sad sack was a sittin on a block of stone
Way over in the corner weepin all alone.
The warden said, hey, buddy, dont you be no square.
If you cant find a partner use a wooden chair.
Shifty henry said to bugs, for heavens sake,
No ones lookin, nows our chance to make a break.
Bugsy turned to shifty and he said, nix nix,
I wanna stick around a while and get my kicks.
Johan Berggren Gallery is pleased to announce the exhibition Letrs from Prisn by Lina Viste Grønli (b. 1976) who lives and works in Oslo, Norway. In her works, Grønli explores art as an alternative strategy and as a tool within alienation, often through sculptures that deconstruct language as a narrative form. In adopting semiotic strategies and collage techniques, combined with a peculiar sense of wit, Grønlis works result in a well defined abstraction and reduction of elements, in meaning, bordering on the radically utopian.
Grønli has exhibited widely over the past years, including exhibitions at Gaudel de Stampa in Paris, the Micky Schubert and the Tanya Leighton galleries in Berlin, Jones Gallery in Cologne, Karma International in Zürich, Astrup Fearnley Museum, Vigeland Museum and UKS in Oslo. Coinciding with the show in Malmö, Grønli will also have her first solo show in New York at Art Since the Summer of 69 and participate in Performa09. Later this year there'll also be a presentation at the Henie Onstad Art Center in Oslo, Norway.
Apart from her own exhibition agenda, Grønli has played a very active role at the heart of the Norwegian art scene, among other things as part of an initiave like Willy Wonka Inc with fellow artists Nils Bech, Ida Ekblad, Lars Laumann, Anders Nordby and Arild Tveito. Lately Grønli and Bech have begun collaborating on various sculptural and performative presentations. On the opening night, Nils Bech will thus perform in a concert at 8 pm at the gallery.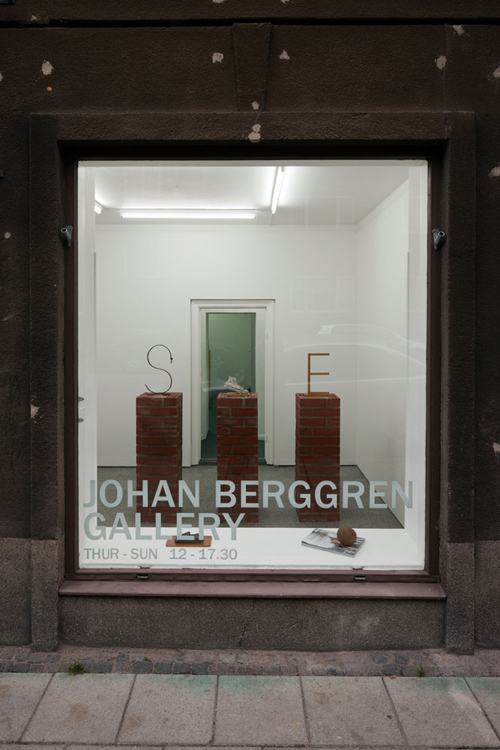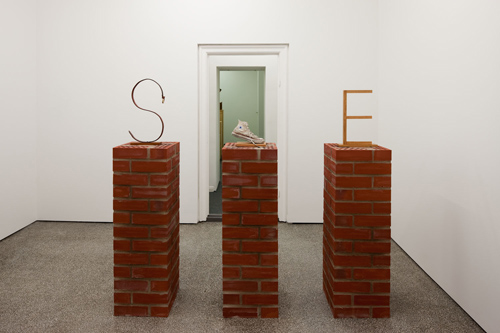 LINA VISTE GRØNLI
Lost Mind (Lou Harrison), 2009
Belt, teak, screw
50 x 22 x 8 cm
LINA VISTE GRØNLI
Au Revoir, 2009
Artist's shoe, wood, screw
20 x 21,5 x 14 cm
LINA VISTE GRØNLI
E for Effrontery, 2009
Oak, oil
41 x 30 x 7 cm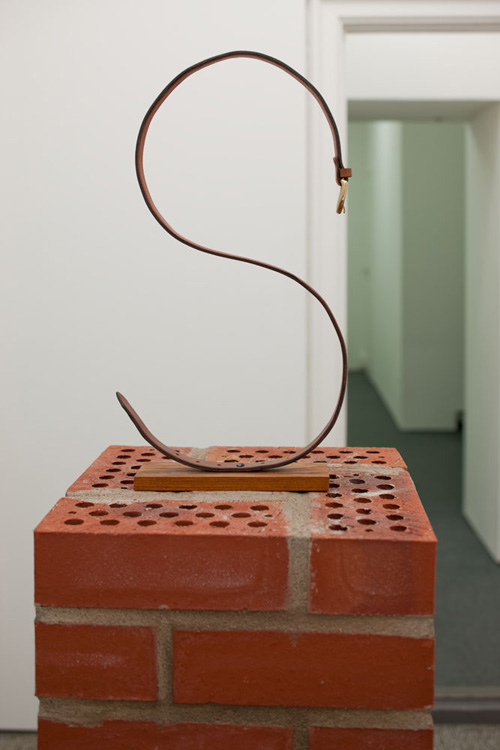 LINA VISTE GRØNLI
Lost Mind (Lou Harrison), 2009
Belt, teak, screw
50 x 22 x 8 cm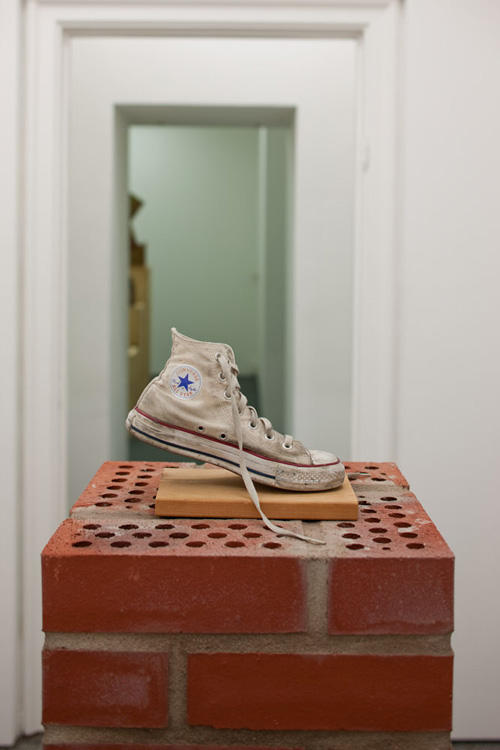 LINA VISTE GRØNLI
Au Revoir, 2009
Artist's shoe, wood, screw
20 x 21,5 x 14 cm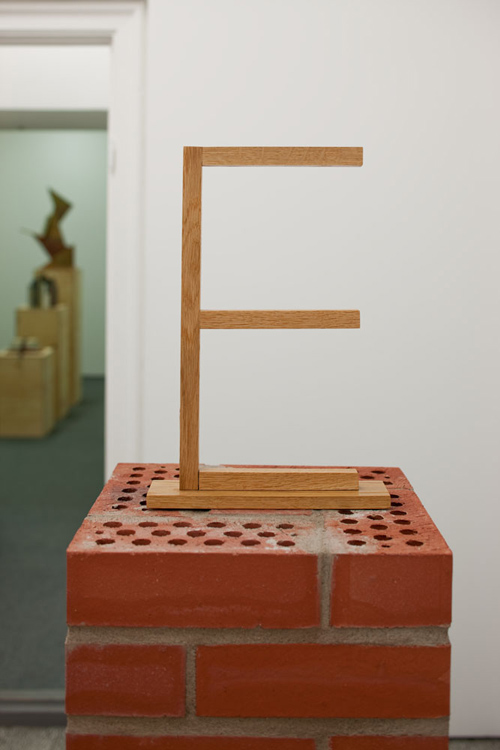 LINA VISTE GRØNLI
E for Effrontery, 2009
Oak, oil
41 x 30 x 7 cm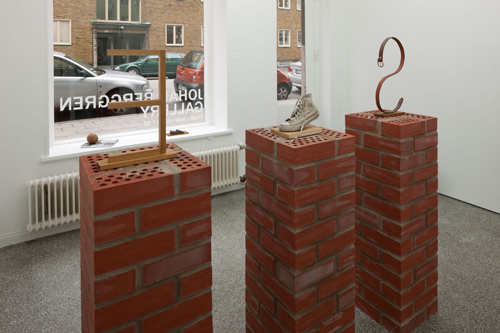 LINA VISTE GRØNLI
Monkey Face (October), 2009
French Vogue, coconut
10 x 28,5 x 22 cm
LINA VISTE GRØNLI
E for Effrontery, 2009
Oak, oil
41 x 30 x 7 cm
LINA VISTE GRØNLI
Walser, 2009
Bronze, teak
5 x 24 x 12 cm
LINA VISTE GRØNLI
Au Revoir, 2009
Artist's shoe, wood, screw
20 x 21,5 x 14 cm
LINA VISTE GRØNLI
Lost Mind (Lou Harrison), 2009
Belt, teak, screw
50 x 22 x 8 cm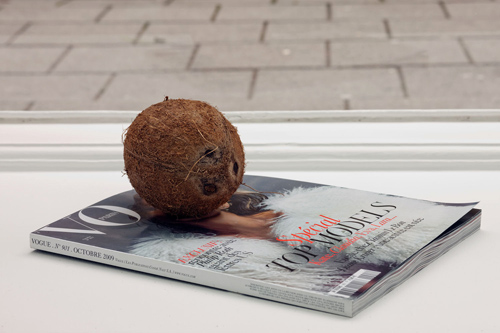 LINA VISTE GRØNLI
Monkey Face (October), 2009
French Vogue, coconut
10 x 28,5 x 22 cm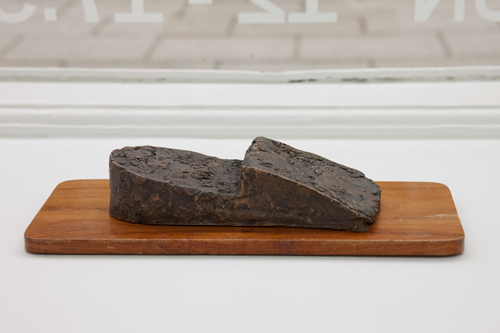 LINA VISTE GRØNLI
Walser, 2009
Bronze, teak
5 x 24 x 12 cm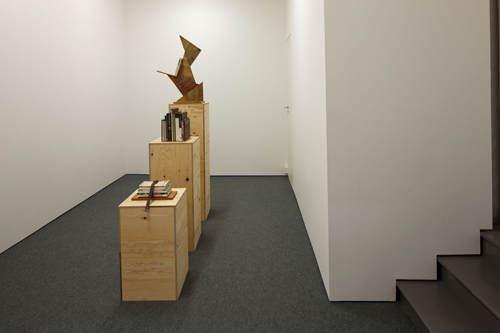 LINA VISTE GRØNLI
Off the Road, 2009
Books, belt, teak
10 x 28 x 14,5 cm
LINA VISTE GRØNLI
Two Paths,, 2009
Books, plywood, wood stain
28 x 20 x 22 cm
LINA VISTE GRØNLI
Summer Hill, 2009
Book, pine, teak, graphite, oil
75 x 30 x 30 cm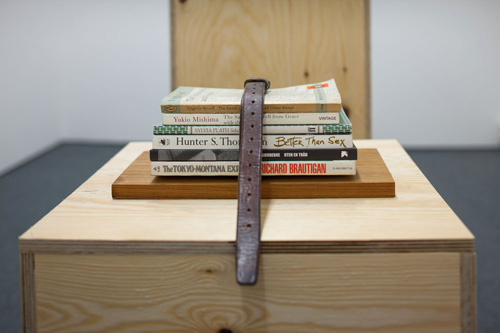 LINA VISTE GRØNLI
Off the Road, 2009
Books, belt, teak
10 x 28 x 14,5 cm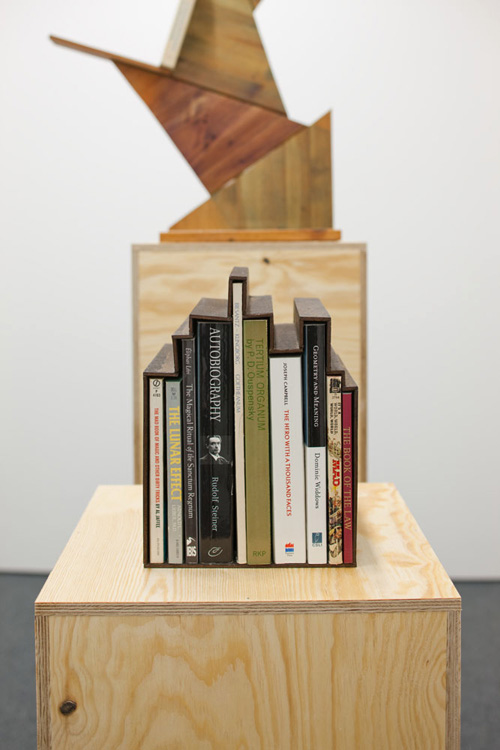 LINA VISTE GRØNLI
Two Paths,, 2009
Books, plywood, wood stain
28 x 20 x 22 cm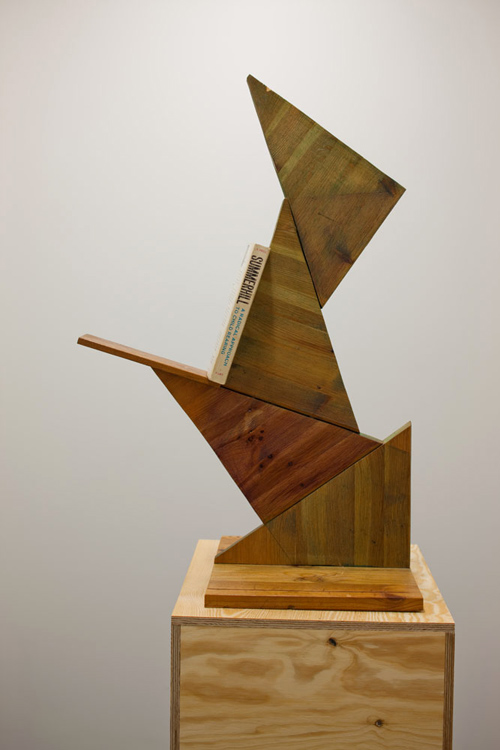 LINA VISTE GRØNLI
Summer Hill, 2009
Book, pine, teak, graphite, oil
75 x 30 x 30 cm