PRESS RELEASE:
Johan Berggren Gallery and Asgeir Skotnes (NO) is pleased to announce an exhibition introducing works by Ryan Trecartin (US),Matias Faldbakken (NO) and Tobias Madison (in collaboration with Kaspar Müller)(CH).
In this exhibition, three critically acclaimed artists' works come together, contextualising a pre-set exhibition title that reflects moods,attitudes and approaches to the creative process. We're faced with an upfront urge for mark making, not seldom based on a collaborative effort and an understanding of destilled communicative needs. From very different points of departure, the artists evolve their practice around visual strategies reflecting chance, trial-and-error as well as a linguistic flow in it's purest form. They're all united in an interest in how a strongly defined visual language, stemming from our contemporary hyper-awareness of information and linguistics as a tool, can form the basis for identity creation and artistic integrity.
Ryan Trecartin (b.1981) is a filmmaker and artist who graduated from Rhode Island School of Design in 2004. He had an instant impact on a whole generation of emerging artists with his film "A Family Finds Entertainment" (2004), first screened on his profile on Friendster. In "I-BE AREA" (2007), now shown at the gallery, Trecartin continues to explore themes such ascloning, adoption and online identities. The film revolves around a space which functions, as said by the artist, as a kind of "bedroom/classroom/drama department/blog space/Internet-community site where the characters malfunction in the face of everything being everything and come to act on their own creative potential."
Matias Faldbakken (b.1973) is an artist and writer, who studied at the Academy of Fine Arts in Bergen, Norway and Städelschulein Frankfurt, Germany. His works can be characterised as a combination of a crude aesthetic, cheap materials and fast production as seen in a work like "One spray can ESCAPIST". The word ESCAPIST is sprayed over and over again until the spray can is emptied and the word is illegible, thus confronting its audience with an idea of "non-productive production". At thegallery Faldbakken will show a new spray painting as well as sculptural text directly on the wall addressing negativity as a driving force. Formally the works pick up on a subtle, sculptural and materialized language evoking questions of what's to come, not seldom with a political undertone.
Tobias Madison (b.1985) is an emerging artist, genuinely interested in a radical, visual process of trial and error. He asks serious questions about production, distribution and branding of art itself as well as cross-references art historical positions from pop-art to Jackson Pollock. In an intuitive process, often involved in collaborations. In Malmö Madison will show a new series of sculptures made in collaboration with Kaspar Müller alongside the latest painting in the "Yes I can!"-series which Matias Faldbakken has been commissioned to execute, thus reflecting what might happen when genuine creativity forces us beyond the postmodern.
Recent solo exhibitions include Trecartin's "Any Ever" at The Power Plant in Toronto and The Museum of Contemporary Art in Los Angels , Faldbakken's "The HHills" at STANDARD (OSLO), "An Alpha Disguised as a Beta" at Giti Nourbakhsch, Berlin and "Known to Few,Unknown to Fewer" at Simon Lee Gallery, London and finally Madison's "Hydrate + Perform / Yes I Can! The Movie: A Preview" at theSwiss Institute, New York.
Asgeir Skotnes and Johan Berggren Gallery expressly wish to thank Elizabeth Dee Gallery in New York, STANDARD (Oslo) and Karma international in Zürich for their generous support throughout the project and for making works available for the show.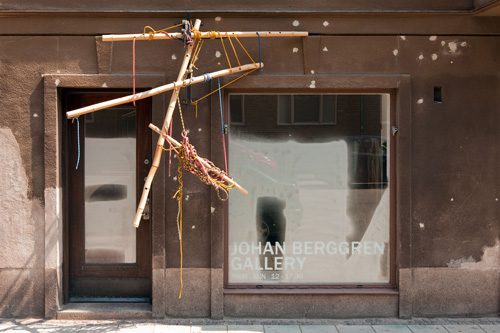 TOBIAS MADISON
Bora Bora structure, 2010
Bamboo rods, climbing rope
220 x 200 x 35 cm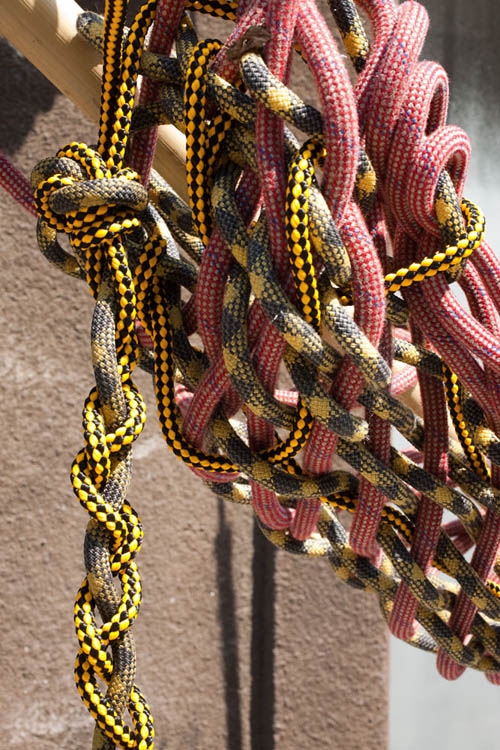 TOBIAS MADISON
Bora Bora structure, 2010
Bamboo rods, climbing rope
220 x 200 x 35 cm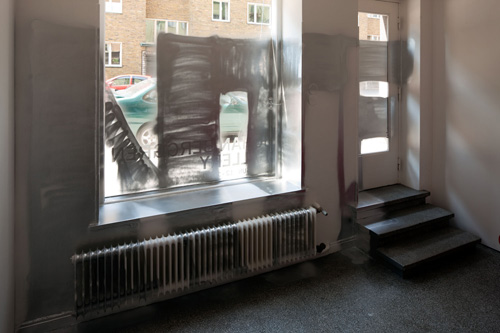 MATIAS FALDBAKKEN
Untield (Outline), 2010
Silver chrome spray paint
415 x 220 cm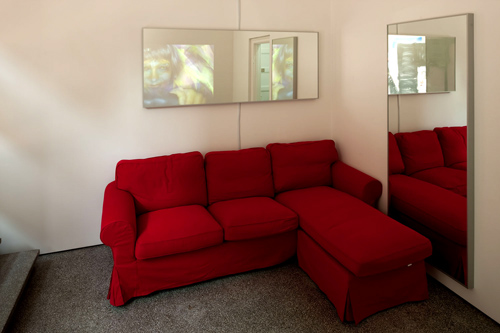 RYAN TRECARTIN
I-Be Area, 2007
Couch, mirrors, video loop (1 hour 48 min)
Dimensions variable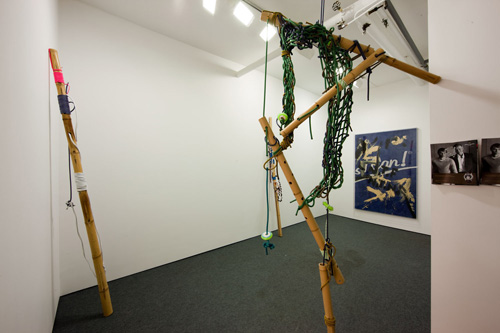 TOBIAS MADISON
Bora Bora structure, 2010
Bamboo rod, climbing rope, bouncing balls, marbles
220 x 9 x 9 cm
TOBIAS MADISON
Bora Bora structure, 2010
Bamboo rod, climbing rope, bouncing balls, in-line skate wheels
300 x 120 x 30 cm
TOBIAS MADISON
Yes I Can! ( with Matias Faldbakken & Alain Jenny), 2010
Glass balls, volcanic rock, primer and acrylic on flag in plexi box
180 x 120 x 8 cm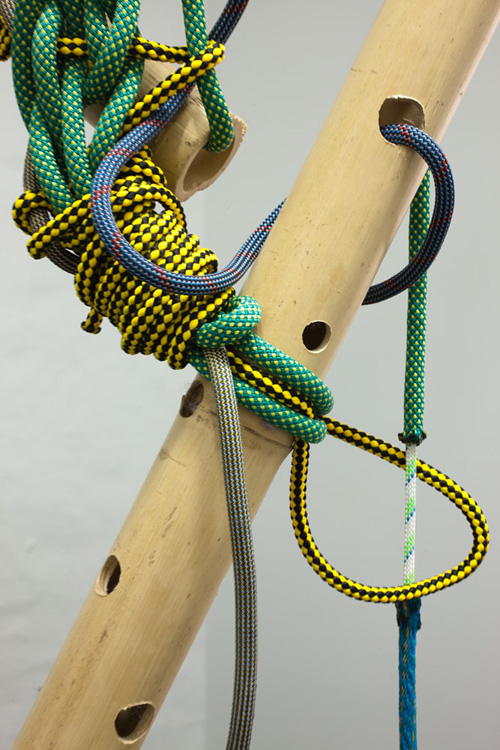 TOBIAS MADISON
Bora Bora structure, 2010
Bamboo rod, climbing rope, bouncing balls, in-line skate wheels
300 x 120 x 30 cm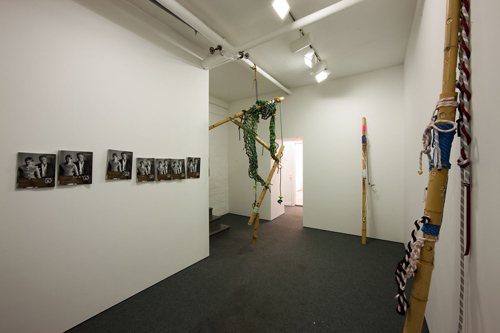 MATIAS FALDBAKKEN
Screw piece #7, 2010
Magazines, screws
235 x 35 cm
TOBIAS MADISON
Bora Bora structure, 2010
Bamboo rod, climbing rope, bouncing balls, in-line skate wheels
300 x 120 x 30 cm
TOBIAS MADISON
Bora Bora structure, 2010
Bamboo rod, climbing rope, bouncing balls, marbles
220 x 9 x 9 cm
TOBIAS MADISON
Bora Bora structure, 2010
Bamboo rod, climbing rope, bouncing balls, marbles
220 x 9 x 9 cm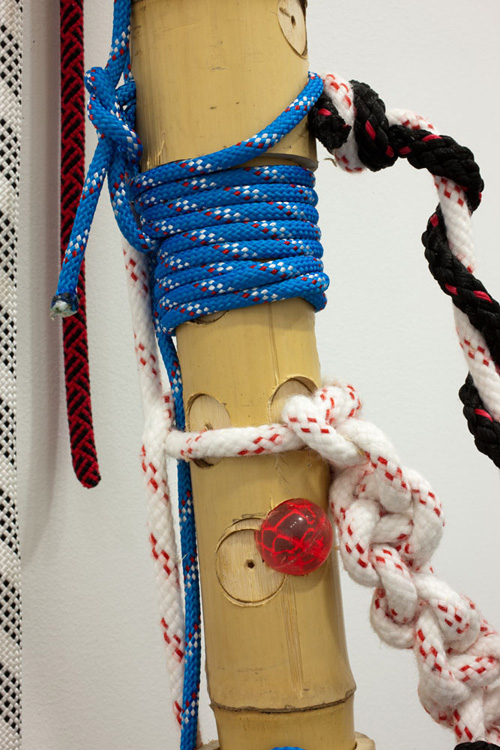 TOBIAS MADISON
Bora Bora structure, 2010
Bamboo rod, climbing rope, bouncing balls, marbles
220 x 9 x 9 cm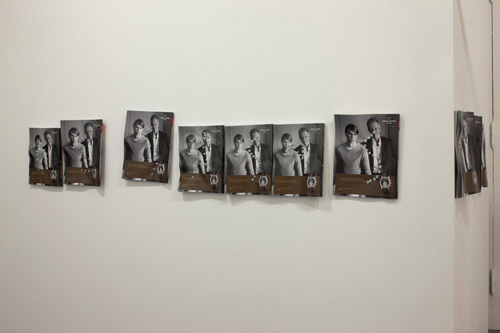 MATIAS FALDBAKKEN
Screw piece #7, 2010
Magazines, screws
235 x 35 cm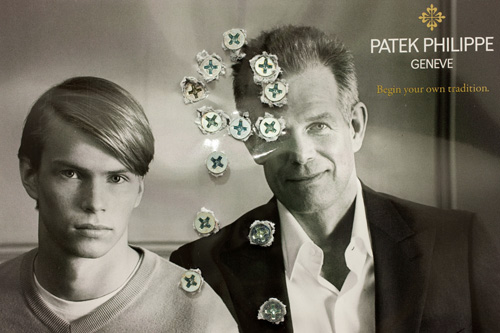 MATIAS FALDBAKKEN
Screw piece #7, 2010
Magazines, screws
235 x 35 cm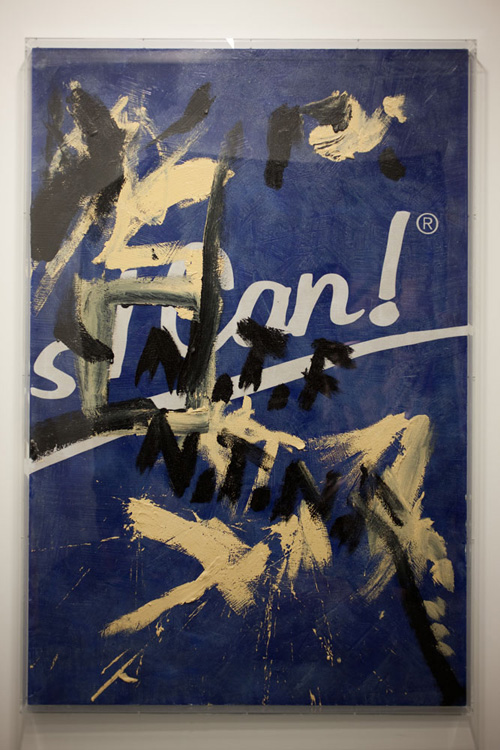 TOBIAS MADISON
Yes I Can! ( with Matias Faldbakken & Alain Jenny), 2010
Glass balls, volcanic rock, primer and acrylic on flag in plexi box
180 x 120 x 8 cm